Couple of my friends are nutritionists, and they all strongly believe that food habits and our unhealthy choices are the root causes for chronic lifestyle diseases. Changing food habits have successfully reversed the common lifestyle diseases – strongly reinforcing the importance of nutrition & healthy eating habits. Embrace a balanced diet.
A balanced diet consists of carbohydrates, proteins, fats, vitamins, minerals, and water intake, in balanced amounts and in proper proportions. The foundation of wealth management depends upon defining the right investment policy – i.e. Asset Allocation. The "Sampoorna Aahaar" for your investment .
Which asset class will outperform?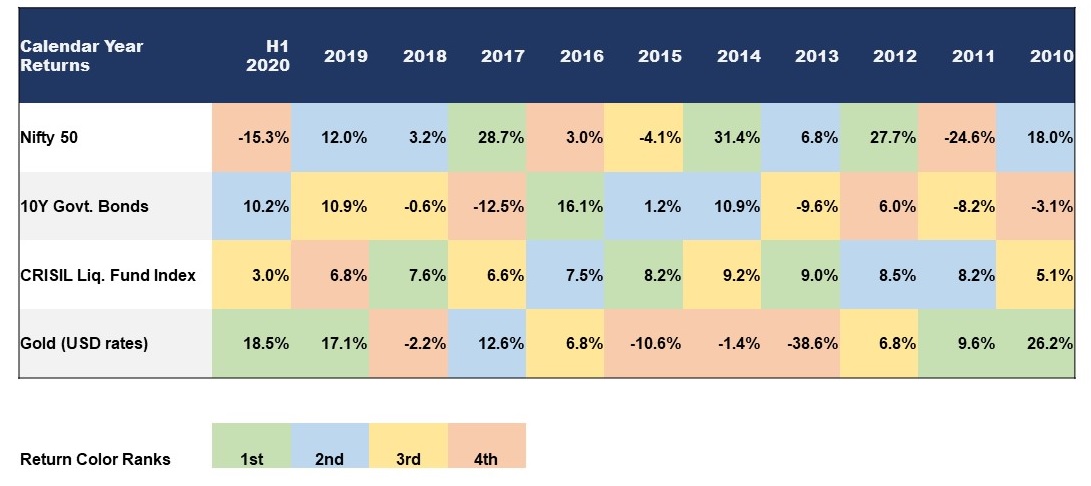 Clearly, empirical data indicates that no single asset class can outperform across market cycles. Hence, the need for an asset allocation.
All forms of nutrition are equally important. The proportion of the varied components will depend upon a person's health status and the intensity of the physical work involved. For example –a high carbohydrate diet may suit a farmhand who exerts physical all day long or an undernourished person; an athlete or a body builder will need a strong fill of protein and carbohydrate.
How to create the balanced "Investment" diet?
Asset Allocation is an art (i.e. – judgement & intuition) and a science (i.e.- using historical data analysis & investment rationale to design a forward-looking portfolio).
Risk Profiling
The constitute of an investment diet will depend upon the investor's "RiskProfiling" – what percentage of his portfolio will be invested in Equity, Bonds, Gold, Cash, etc. Or which form of investment is good. Risk profiling can be broken down into Risk Tolerance and Risk Capacity.
Risk Tolerance refer to investor's emotional tolerance to volatility or loss bearing capacity, beyond which the investors call quits; whereas Risk Capacity can be explained by two simple real-life examples – first, a young client aged just 27 years, can be assumed to have a high risk tolerance level but he has the responsibility to get his two sisters married in the coming two years, the situation has muted his risk capacity significantly; while in the second case, an old businessman aged 76 years whose children were doing very well and were settled abroad, having enough surplus money with no need for liquidity and a strong understanding of equity markets, increased his risk capacity. These are judgements that make this an art.
How do the asset class and their combinations work?
Simply put, Equity & Gold are growth assets; as you can observe from the returns chart given above, they both have the propensity to deliver higher returns but are also highly volatile and thus the returns are not uniform & linear. The volatility of these growth assets gets tempered over a longer time horizon.
Bonds are relatively less volatile and Cash Liquid Funds offer least volatility with very stable returns. These are hence defensive assets; adding much needed stability to the portfolio, reducing volatility.
The combination of the above asset classes based on the risk profile, create different portfolios (asset allocations) that carry different risk & return propensity.

Goal based asset allocation
For long distance travel "Aeroplane" is the most efficient. Walking/ bicycle/ bike is the most suited vehicle to cover a kilometre or two.
One can cover the long journey even by driving a bike, reaching the destination safely as well but that doesn't make it the most efficient one. Covering long term goals with bonds may help one reach the goals safely, but may not be the most efficient choice.
Similarly, it will be fatal to land an aeroplane in the neighbourhood "Kirana" store. Even if you are the richest person on earth – using growth assets to achieve short term goals can be a dangerous act. Growth assets (equity / gold) are volatile and therefore not suited for short-term investment objectives.

The Balancing Act
The starting point of asset allocation will change with the market movements; it needs to be regularly balanced based on the market movement or at a defined period. This will force an investor to book profit from an asset class that has moved up sharply or invest in an asset class at a low if the market correction has drifted the allocation down; indirectly facilitating the "buy low, sell high" concept.
Goal based asset allocation is the simplest form in designing an asset allocation. Having said that, it must be monitored regularly with regard to the remaining maturity of the goals, and must be adjusted by trimming down the risk as the goal progresses to maturity.
Follow these simple money rules; enjoy your money because LifeIsBiggerThanMoney