"An Ounce of Prevention is worth a pound of Cure"
How is Health Insurance different from Medical Loans?
Benefits of Health Insurance over Medical Loans
    How is Health Insurance different from Medical Loans? The basic distinguishing factor between Health Insurance plans & Medical Loans is that the former is purchased beforehand while the latter is availed after a medical emergency strikes. At this time, you might be rationalizing the fact that a medical loan is better as you do require healthcare facilities. Well, it might come as a shock, but having health insurance is a better alternative for covering covid 19 insurance coverage. How? Health Insurance is the best preventive measure that everyone should avail. It covers ample features that you won't get in medical loans.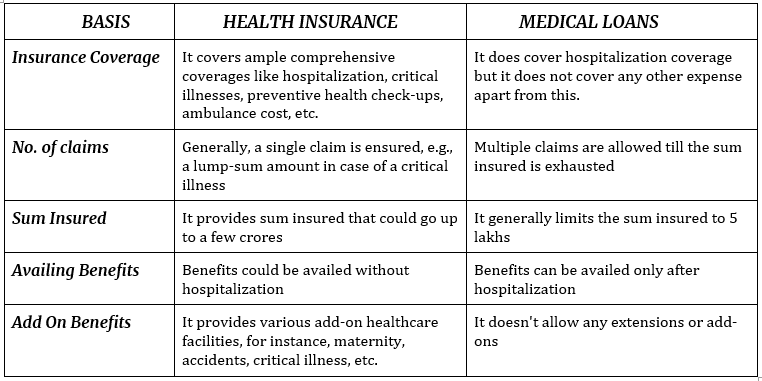 FEATURES OF HEALTH INSURANCE PLANS
Pre & Post Hospitalization coverage
Cashless Facility
Annual Health Checkups
Tax Benefits
Coverage for critical illness
Maternity & newborn coverage
Pre-existing disease coverage
  Before getting to any conclusion let's understand the differences between the two through a tabular representation of how health insurance companies provide better facilities than a medical loan: As mentioned in the table above, health care insurance certainly is a more advantageous policy to have! Saying this, let's learn about more benefits of having a health insurance policy!
Benefits of Health Insurance over Medical Loans
Immediate medical facility:
With just a little paperwork involved, health insurance gives you access to medical facilities instantly.
With health insurance, you get access to get your loved ones treated in big and quality healthcare facilities & hospitals without wasting any time!
Affordability & Extra benefits
Compared to medical loans, health insurance plans are quite cheaper to avail & it carries extra benefits too like free health checkups, top-up plans, etc. Bottom Line: Covid 19 insurance policy in India has come up with so many benefits. It is always better to take precautions than stress yourself at the last minute. Why be under financial stress when you can have a health insurance plan priority? After all, you can only achieve wealth when your health is perfect!