A family is more than just a word, it is an emotion. That's true. In the same way as everyone else, you continuously strive to provide a better life for your family. Naturally, being the breadwinner of the family, you would want your family to be financially secure after you. The financial security of your family ought to be taken into account when making certain life decisions. Life and term insurance are both types of insurance that would protect your family if something were to happen to you. Before we dive into basic math, let's take a look at term insurance.
What do you mean by term insurance?
Term Insurance is nothing more than income replacement. This policy is known for providing pure life coverage. The purpose of term insurance is to provide financial security for your family in the event of an unfortunate event. In order to obtain life insurance, you have to pay a premium. In the event that the life assured/person dies, the family receives a large amount of money. It provides a comfortable life for the legal heirs and other family members.
How much term insurance do you need?
Term life insurance is designed to ensure that your family is adequately supported financially, after you. There is, however, a valid question to ask here: what is an adequate amount of coverage? Rs 1 crore is a trendy number for term insurance. To be fair, eight figures are substantial. However, most of us buy it without doing any basic math/understanding.
1. Factor in your monthly expenses
As estimated above your monthly expenses is Rs 60,000, which means Rs 7.2 lakh per year. The general rule of insurance recommends purchasing at least 10-15X of your annualized income. This figure considers the inflation rate, rising education costs & increasing cost of living. At a multiple of 15 times, your coverage on the basis of future household expenses would be Rs 1.08 crore.
2. Evaluate your liabilities
They say that success is not far off if we have farsightedness. An important aspect of getting term insurance is to have farsightedness that will ensure you purchase the right policy securing your family against future financial liabilities. While choosing the sum assured for the term plan be sure to consider your assets, outstanding loans, debts, etc. However, in your situation, the biggest outstanding would be your home loan for which you pay off Rs. 30,000 EMI. This is a pretty heavy burden that you would not want to leave for your family if God Forbid something happens to you. The outstanding balance of Rs.70 lakh of home loan here, becomes our primary concern for evaluation. Let's move forward!
3. Evaluate your future/ongoing financial goals
The predominant factor of having term insurance is to retain the current lifestyle of your family with financial security in your absence. Now since you have 2 children, the two most important goals for them are their education and marriage. For, preparations have already been started a SIP of Rs. 9000 to create an estimated corpus of 50 lakhs+ over the next 15 years.
4. Factor in your existing investments/passive income
Now since the liabilities, and future/ongoing financial goals are covered, now we will asses the investments that you have made over the years. How will this benefit your family? Well, your family members can access the money from these investments upon your demise. From FDs to mutual funds, to provident funds to real estate any type of investment can help in financial stability for your family. Let's assume you have a mutual fund portfolio of Rs 30 lakh. This money is readily accessible to the family upon your demise which means you can deduct this amount from your life insurance coverage requirements. Considering all the factors discussed, let's calculate an estimation of how much term insurance you would need: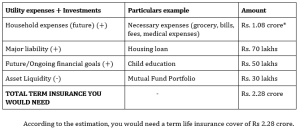 Checklist to consider before buying term insurance!
Human Life Value One must calculate the Human Life Value to find out how much insurance one should have.
Policy Term Period How long do you wish to have the cover? Do you want it until 65 only or do you wish to cover it for your whole life? The premium will vary accordingly.
Premium Comparison Compare the premium along with the premium payment term. Nowadays, you have the choice of paying a premium within a few years, so the chance of the policy getting lapsed gets reduced.
Features & Riders Compare the feature and riders, and pick a few riders that you think are relevant & important to you.
Claim Settlement Ratio (s) What has been the last 5 years' claim settlement ratio of the company, and how many days do they take to settle the claim?
Bottom Line: We live in a world that is unpredictable. In the near future, no one knows what to expect. By taking out term insurance, you give your family the security of knowing they can manage financially after you pass away. You will not be able to replace their emotional void after you pass away, but you will be able to compensate them financially!