"The love of a family is life's greatest blessing"
The gossip sessions while having dinner, watching movies before sleeping, and having that amazing cup of tea in the morning, are connections that you must have with your family. The love of a family is life's greatest blessing!
Irrespective of any worst situation in life, in the end, family love is what purifies our soul. Isn't it?
Naturally, being the breadwinner of the family, you would want your family to be financially secure after you. In life, there are some decisions that should be made by thinking practically for the security of your loved ones. Term insurance and Life insurance are two products that would be your family's rescuer after you!
But wait, which insurance is better to purchase? Let's see!
WHAT IS TERM INSURANCE?
Term Insurance is nothing but an income substitution. It is known to be a pure protection life cover. Term Insurance being one of the types of life insurance secures your family financially in case of any unfortunate case to the policyholder.
You pay a premium for the life insurance cover and God forbid if the life assured/person dies, the family gets the huge sum of money as a death claim. This amount helps the legal heirs/ other family members to live comfortably. Here the insurance company becomes liable to pay the sum to the nominee in case of the unfortunate death of the policyholder during the policy tenure.
WHAT IS LIFE INSURANCE?
Life insurance is the cover that provides double benefits of protection and investment for the entire life of the policyholder. The upper age limit of these plans generally goes up to 100 years. Here the insurance company promises to pay a lump-sum amount in exchange for premiums paid by the policyholder, either upon the death of the policyholder or after a set of periods.
What is the difference between Term Insurance & Life Insurance?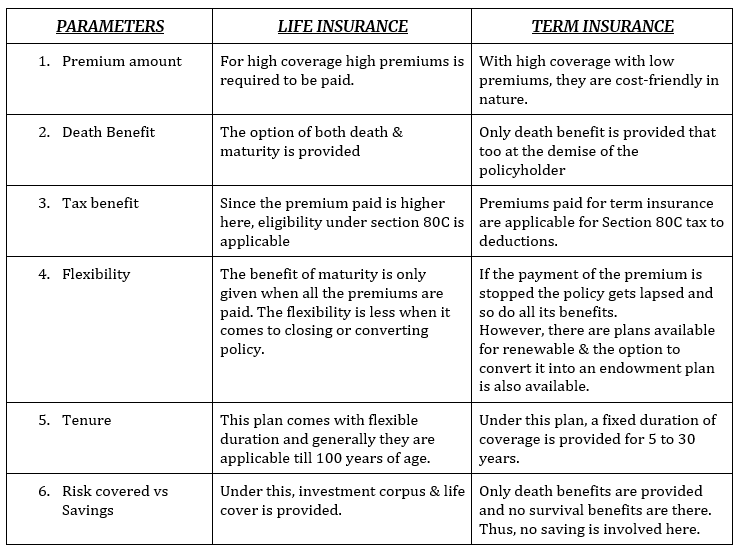 Bottom Line:
Both term insurance and life insurance have their pros and cons, and so does everything in life. Figuring the best as per your need is what a sensible person focuses on. Life insurance is equally good but term insurance comes with low premiums and high coverage and with the benefit of financial protection against premature death.
So considering the above differences, figure out the best for you and your loved ones. Do what is right for your family!!