Did you know that from the era of 3000 BCE to around the 10th century AD, India was known as the Golden Bird?
The Etymology of gold shows that India was a country with rich cultural and economic history. Both Gold & Silver literally gave birth to Empires and Dynasties! Gold has always been on the top billing with silver backing it up!
When it comes to investment, Indians always had a soft corner for Gold, and why shouldn't they? Gold has been a rescuer for many Indian households & even for India in 1991 when it faced the biggest economic crisis.
There have been ample debates on whether or not gold is better than silver considering investments. So, let's see out of both the precious metals, which becomes the conqueror!
Gold-silver ratio: historical gold rates vs silver rates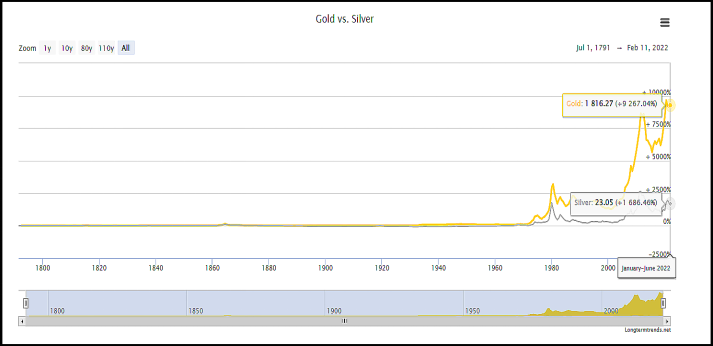 Source: Longtermtrends
This data shows how from 1791 till 2022, Gold has always advanced one step above silver.
Investors who have dived into the gold and silver market come through a term called Gold-Silver Ratio. This ratio simply shows how many ounces of silver takes it to purchase one ounce of gold. When this ratio rises, gold becomes more expensive as compared to silver. As the world economies went into lockdown, Gold was seen to hit an all-time high above 125 in March 2020. But when the prices fall, gold becomes less costly relative to silver.
Gold vs Silver: which is better as an investment?
Considering the investment planning, digital gold has set the bar quite high. Nevertheless, both these vastly used metals have seen boom and bust cycles. Mentioned below are some factors stating how Gold investment is much better than the investments done in silver.
LIQUIDITY
Without any dramatic market impact, the ease at which an asset can be exchanged measures the process of liquidity. In terms of liquidity, the gold market is more liquid than the silver one. Not only this, but it is also larger in terms of the annual supply of value. As per the CPM's Gold & silver 2020 yearbooks, the gold market was estimated at a valuation of $24.5 trillion in 2019. This is much higher than the value of silver which was around $4.4 trillion in the same year.
Individual investors can smoothly trade into and out of holdings of both gold and silver. The comparative scarcity of liquidity in the silver market could make some large-scale precious-metals buyers choose gold instead.
STORAGE COSTS
Investments in both silver and gold can be a bit expensive as it includes storage & insurance expenses.
In the case of both gold and silver investments, the Investors are needed to rent far more space in a vault for silver than they would for gold.
For investors who buy gold or silver through ETFs or mutual funds, storage costs don't play a major role as annual fund expenses tend to be generally low.  The gold and silver ETFs mentioned above, for example, have annual expenses of 0.4% and 0.5%, respectively.
VOLATILITY
Conventionally, silver has been proven to be more volatile in nature than gold. Several media reports have suggested that the supply of silver stands around a billion ounces, considering its extensive demand.
The majority demand for silver comes from the industries and thus, the demand for it fluctuates depending on the working of the company's operations. That being said, the volatility of silver as compared to gold investments is much higher. Gold investments have been considering making remarkable stability!
Suggested also read link: How to Reduce Investment Risks?
Bottom Line: 
The cultural heritage of gold has made it the most desirable metal. Gold is believed to be Money of the Kings! With the coming of digital gold, people are seen more focused on making gold investments. It's not that silver is not a good investment, it is good, but when compared to gold investment, then silver steps beneath.