Buying your 1st car is always a dream come true. It is a milestone in your financial life. There is a general perception that buying a car is best by taking a car loan, or maybe savings. But is Car Loan, the right option? Well, let's see.
Is Car Loan actually a better Catch?
Today, various banks offer car loans in India. Unlike a personal loan, a car loan is a secured loan as the collateral here, is a car. Thus, the rate of interest is not that high as that of an unsecured loan.
However, there are additional costs associated with buying a car that eventually adds up to its overall cost. These costs include documentation charges, processing fees, GST, etc.
Now the other thing is an arrangement of the down payment for your car. The majority of the bank generally provide 80%-90% of the car's on-road price as a loan. Therefore, 10-20% of the amount has to go from your pocket. Envision yourself taking a loan for a car with an on-road price of Rs. 12lakh, for which you'll end up paying a down payment of Rs. 1.2 lakh to Rs. 2.4 lakh. Banks usually offer a tenure for a car loan of up to 5- 7 years.
Now once you paid the rest 10% of your 12-lakh car, you will have to take Rs. 10.8 lakh loan amount. The table below will explain how much extra you will end up paying for a 7-year tenure.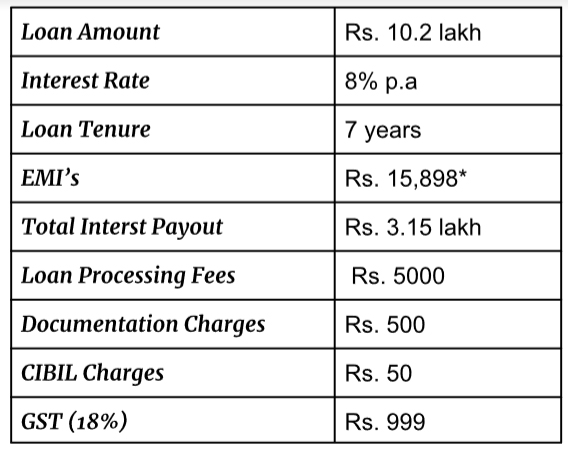 As you can see, the total charges for a car loan including the Interest + Other Charges + GST sum up to Rs.3.22 lakhs. Thus, making it an expensive deal. Along with this expensive deal, you even end up worrying about monthly EMIs.
Is Investment a Smart Choice?
Taking a car loan is surely an option to get instant access to your vehicle. But do you know what will be a smarter choice? Well, it will be saving through investment and then purchasing it. Let's learn how this will work.
Now consider that you planned to wait for 5 years before purchasing a car. Instead of paying an EMI of 20, 000 for 5 years, invest that amount in SIP every month. Assuming a 10% return, this invested amount will bear you a corpus of Rs. 15.58 lakh by 5 years.
Not only this, if you invest the amount you previously arranged for the down payment (1.2 lakh) in say, an Aggressive mutual fund, considering 10% returns for 5 years, you can expect a corpus of 1.97 lakhs being a lumpsum investment.
Calculating both the investment scenarios, by the 5th year you'll be having 17.55 lakh, which is more than the target amount of 12 lakh cars, you had. Just with patience and financial discipline, this amount could be achieved.
Bottom Line:
Through a car loan, you ended up paying more amount, but through saving in the form of investments you ended up acquiring more amount of money!
Well, A debt-free car bought with patience is better than immediately buying a car & being in debt for years!