"Say goodbye to tension, and hello to your pension"
In India, the concept of retirement planning is still, quite vague. It is believed to be the most procrastinated long-term financial goal of a human's life. Retirement is the age that proffers you the time to catch up with things that you might have missed out on early due to personal & professional commitments.
Now the government has come up with many financial products designed to conquer the financial needs during the golden period. Out of that product list, NPS or National Pension Scheme is believed to be the record-breaking financial product for retirement.
Without further ado, let's understand this financial product and how it is good for investment:

What is NPS?
NPS or National Pension Scheme is an initiative of social security that is a government-owned investment option. This is designed to meet the financial needs of employees of private, public, or unorganized sectors for their retirement. The introduction this scheme was first made for the central government and later on, it was introduced to all the citizens of India between the ages of 18-60 years.
With NPS, the investors invest a portion of their income at regular intervals. This way, this scheme allows you to accumulate your retirement corpus and through this, you would be able to get a pension during your retirement years. The minimum amount to start investing in NPS starts from Rs.500 up to no limit. However, the main thing is that withdrawals can only be made once you have reached the age of 60.
The best part of investing in NPS is that it comes with additional tax benefits. For instance,
Under section 80CCE a deduction up to Rs. 1,50,000 can be claimed;
Under section 80CCD(1B) up to Rs. 50,000 can be claimed;
Lastly, under section 80CCD(2) up to 10% of the basic salary can be claimed.
In addition to tax benefits, NPS gives the liberty to you invest up to 75% of your fund in equity. Since NPS is a market-linked investment, it has the ability to beat inflation with its returns over the long term. Therefore, a best-suited financial product in helping secure the golden years of the investors.
Who should invest in NPS?
NPS progressively reduces the equity exposure every year as the investor gets old, so investors who cannot decide upon their asset allocation are best suited for this product. Another category could be those investors who don't have time to actively manage their investments.
Another category of individuals could be those who are looking for cost-efficient solutions to accumulate their retirement corpus. Also, if they are comfortable with longer lock-ins and high exposure to equities! A systematic discipline of investment like this will surely make a huge difference to your life post-retirement life.
Types of NPS Account
Under the NPS there are two account types, one is a tier I, and the second is tier II. The table below explains the two account types in detail.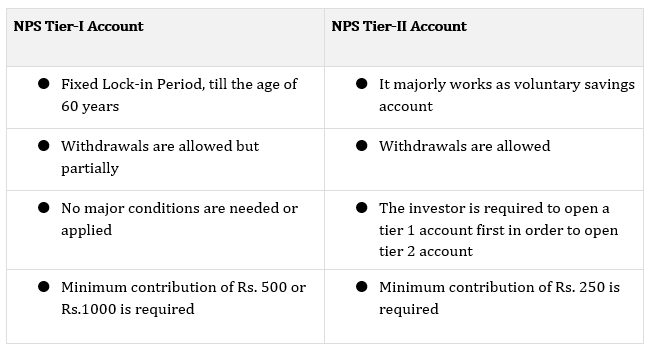 How is NPS good for investment?
As stated before, investment in NPS has been proven to be a systematic savings avenue for securing your golden period of life. Not only this, NPS carries many entitlements that make it a perfect investment avenue for the benefit of retirement planning.
No need to worry about RETURNS
As discussed above, a portion of NPS investments goes towards the equities, and because of market volatility guaranteed returns cannot be assured. However, National Pension Scheme offers much higher returns than traditional investments like the PPF or Fixed Deposits. For over a decade NPS is known to deliver 8%-10% annual returns.
For NPS there is currently a cap in the range of equity exposure that is in the range of 75% to 50%. There is a 50% cap for the government employees in which each year the equity portion will be reduced by 2.5%, once the investor turns 50 years.
Whereas, in a scenario where the investor is 60 years and above the cap is fixed at 50%. This is done to stabilize the risk-return balance for the investors. Further stating that this will somewhere save the corpus of the investor from the equity market volatility.
Flexibility in Fund Allocation
Another benefit of NPS is that it comes with the advantage of designing the fund portfolio as per the convenience of the investor. Investors have the freedom to allocate funds as per their risk appetite and can be re-arranged too if the investor is not happy with its fund's performance.
Withdrawals and Exit Rules
In NPS, you are not allowed to withdraw the entire corpus saved for your retirement. It is mandatory to keep aside at least 40% of the corpus in order to receive a regular pension from the PFRDA (Interim Pension Fund Regulatory & Development Authority). This is the case when you wish to withdraw your amount once you have reached the age of 60 years.
Secondly, it is crucial to continue investment in NPS till the age of 60. But in case of emergency, you can withdraw up to 25% only if you have been investing for three years. These emergencies could be your child's wedding or higher education, medical treatments, purchasing a house, etc. You can make a withdrawal up to three times (with a gap of five years) in the entire tenure.